Virtually every time I walk into a gym I see people performing crunches with their hands clasped behind their heads. Most often I end up cringing as I watch them yank themselves up from the floor, their necks flexing up and down like a bobblehead doll. It's a surefire recipe for neck pain. "But wait," many say, "this helps to support my neck." Right? Well, not really…
Understand that the primary muscle that supports the head during the crunch is called the sternocleidomastoid (SCM) – a strap-like muscle situated on both the left and right sides of the neck. The key point to remember here is that the SCM resides toward the front of the neck. Where does neck pain from performing crunches generally occur? The back of the neck!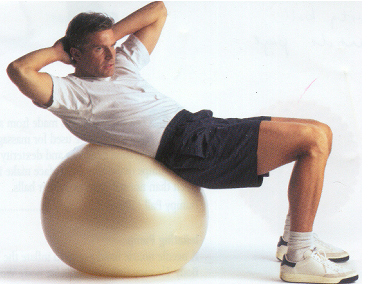 With that in mind, it should be apparent that placing your hands behind your head during ab exercises is invariably a bad idea. Here's why: When the hands are clasped behind the head during spinal flexion (a crunch), there is a reflexive tendency to pull on the upper portion of the trapezius muscle, which resides on the back of the neck. This is especially true as a set becomes more difficult and you're struggling to complete those last few reps. In addition to significantly increasing the potential for a neck strain, you also introduce momentum into the movement, thereby decreasing the effectiveness of the exercise in developing your abs. A bad combination.
So what to do? For best results, keep your hands folded across your chest or, if you prefer, make a fist and keep them at your ears. This will ensure that the action takes place only at the point of interest: your abs, not your neck. If your neck muscles aren't strong enough to perform the movement properly, consider using a device like an ab roller or one of the many ab machines available in your local gym. These units provide a cushioned support for your head that won't pull on your neck muscles during training. Regardless, supporting your neck with your hands isn't the answer as it will only serve to exacerbate neck problems and impede results. Avoid it.
Stay Fit!
Brad

Bookmark this on Delicious