I've said it time and again: with rare exception, there is no such thing as a "bad" exercise, only improper performance or application of a given movement. The upright row is yet another example of this reality. You'll hear a lot of trainers say that the upright row is a one-way ticket to shoulder issues. They'll put it at the top of their "do not perform" list. Fact is, though, the upright row can be a terrific shoulder-builder provided you employ proper technique.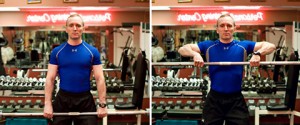 Here is a link to an interview I did with the New York Times on the subject titled A Safer Shoulder Workout. As I noted in the article, the key to safe performance of the upright row is pull the bar only to a point where your shoulders are just below parallel with the floor; any higher and you increase the potential for impingement. To ensure that deltoids are maximally activated, lead with your elbows, not your wrists. Notice in the photo how the humerus (i.e. upper arm bone) remains elevated above the hands. This should be the case throughout the move.
It's important to note that, as with any exercise, individual genetics and injury history will come into play. If the movement doesn't feel right, don't do it. Moreover, if you have an existing shoulder injury, it may be contraindicated. Train smart and you'll achieve optimal results while staying injury free.
Stay Fit!
Brad