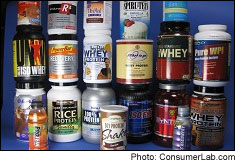 In a previous post, I wrote about the recent Consumer Reports study that found various protein supplements contained potentially unsafe levels of arsenic, cadmium, mercury, and lead. Now comes another study on the subject, this one conducted by Consumer Labs The following three products did not pass the Consumer Labs test:
1) Nature's Plus Spiru-Tein Vanilla was found to contain 12 grams of sugar as opposed to 8 grams per serving claimed on the label. It also contained 26 more total calories per serving (125 calories versus the 99 claimed on the label), which was attributed to the increased carbohydrate content as well as some additional dietary fat.
2) NutriBiotic Rice Protein Vanilla was found to contain 6 mcg of lead per scoop (18 mcg in the maximum daily serving of 3 scoops) which is considered above tolerable limits.
3) Metagenics® UltraMeal® Rice Natural Chocolate Flavor was found to be contaminated with 5.9 mcg of lead per daily serving.
It should be noted that the products receiving a failing grade were all either soy or rice based, and high lead levels were found exclusively in the rice based proteins. This is understandable given that lead is known to accumulate in rice. All of the whey based protein powders were given "approved" ratings (although Consumer Labs did not test for levels of arsenic or cadmium, which were evaluated in the Consumer Reports study).
As always, remember that supplements are not regulated and quality can be spotty depending on the manufacturer. To help ensure that you get what you pay for, opt for brands that bear the that bear the "USP Verified" seal signifying independent testing for quality, purity, and potency.
Stay Fit!
Brad