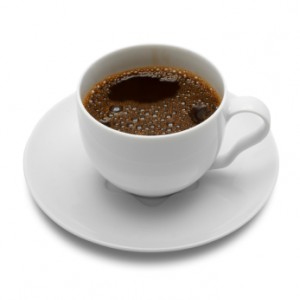 For all the coffee bashers who continue to perpetrate the idea that a cup of java is health hazard, here is yet another study to refute such assertions. Misik and colleagues (1) investigated the impact of filtered coffee on oxidative damage. 38 subjects were given either 800 ml of coffee or water for five days using a crossover design (meaning subjects received both conditions). The results? Coffee gets a big thumbs up, reducing formation of oxidized purines (a marker of DNA damage) by 12.3%. Researchers concluded that "coffee consumption prevents endogenous formation of oxidative DNA-damage in human." These findings are consistent with other research. Better yet, evidence suggests benefits can be seen with as little as a single cup of coffee a day.
Understand that coffee is a rich source of antioxidants, which help to fight free radicals that can damage bodily tissues. Scientists are just beginning to explore the many health-related benefits that coffee may confer. The belief that it is detrimental to wellness when consumed responsibly is clearly misguided (excluding a limited number of people who may be contraindicated from consuming caffeinated beverages as advised by a physician).
Also, let's put to rest the contention that caffeine is a diuretic that will leave you dehydrated. In an extensive review on the subject, Maughan and Griffin (2) found no evidence that caffeine had a negative effect on fluid balance. The authors went on to conclude that the overwhelming body of research offers "no clear basis for refraining from caffeine containing drinks in situations where fluid balance might be compromised."
Stay Fit!
Brad
1) Mišík M, Hoelzl C, Wagner KH, Cavin C, Moser B, Kundi M, Simic T, Elbling L, Kager N, Ferk F, Ehrlich V, Nersesyan A, Dušinská M, Schilter B, Knasmüller S. Impact of paper filtered coffee on oxidative DNA-damage: Results of a clinical trial. Mutat Res. 2010 Aug 13. [Epub ahead of print]
2) Maughan RJ, Griffin, J. Caffeine ingestion and fluid balance: a review. Journal of Human Nutrition and Dietetics 16(6): 411–420, 2008.