Perhaps you've seen the headlines: Twinkie diet helps nutrition professor lose 27 pounds. In case you missed it, Mark Haub, a professor of human nutrition at Kansas State University, conducted a weight loss experiment. The premise: could he lose weight on a diet consisting primarily of junk food? The results: 27 pounds lighter over the course of ten weeks!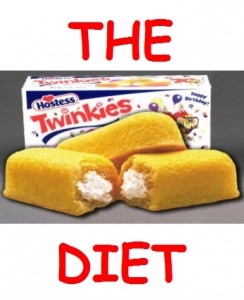 Surprised? You shouldn't be. As I've noted in previous posts, Haub simply followed Newton's First Law of Thermodynamics by consuming fewer calories than he expended. Specifically, he cut his calories from about 2600 calories per day to less than 1800–a daily deficit of 800 calories. Given that there are approximately 3500 calories in a pound of fat, do the math and it all adds up. What might be somewhat surprising is that in addition to losing weight, Haub actually saw an improvement in his lipid profiles, with a 20% drop in LDL (i.e. the "bad" cholesterol) and a 39% reduction in triglycerides. Pretty impressive, huh?
Now before you run out to your local 7-11 and stock up on Twinkies and Ho-Ho's, a couple of things must be taken into account. For one, based on body fat estimates provided by Haub, he lost about 6 pounds of muscle over the diet period. Given that muscle is metabolically active tissue, his metabolic rate would have crashed, hastening the onset of a weight loss plateau. For another, the excessive intake of sugars undoubtedly sent his blood sugar levels skyrocketing, increasing hunger. Taken together, these factors would make it increasingly harder for him to sustain weight loss over time and likely result in the dreaded rebound effect where body fat is regained at an accelerated rate.
The take home message here is that any diet will help you to lose weight in the short-term provided there is a caloric deficit. Long-term weight maintenance, however, requires a change in lifestyle. This involves adopting a "metabolically friendly" nutritional regimen combined with regimented resistance training. Central to this approach is making sure that protein intake is maintained at approximately 1.6 to 2.0 grams per kilogram of body weight (slightly less than 1 gram per pound of body weight). Studies repeatedly show that protein intake is the most important determinant of body composition, particularly during times of caloric restriction (i.e. when you are "dieting"). Consuming adequate protein attenuates muscle loss while enhancing satiety–essential factors in achieving lasting weight loss.
Bottom line: take a sensible with your nutrition. If weight loss is desired, make sure you take in fewer calories than you expend. Science tells us it's the only way to lose weight. What's more, focus on eating protein-rich foods that furnish your body with the necessary raw materials for building lean tissue. Despite what you may have been led to believe, protein is the most important dietary nutrient, hands down. I'll address the research on the topic in an upcoming post. Stay tuned…
Stay Fit!
Brad