Joe Dowdell is a rarity in the fitness field. He's owner of an elite gym, a fitness author, and a contributor to numerous magazines and websites. Certainly impressive credentials. But what sets Joe apart from the vast majority of trainers out there is that he's a student of exercise science who takes an evidence-based approach to training. The results of his efforts more than attest to this fact — just check out the myriad testimonials from those who have trained with him, including many celebrities and athletes. Bottom line: the guy knows his stuff!
I was fortunate to have the opportunity to interview Joe about his training philosophy and various other aspects of his career. I'm sure you'll find his views of interest.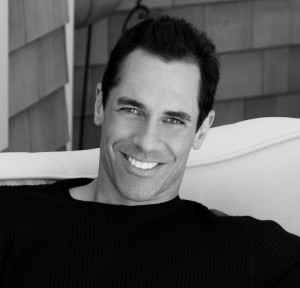 BJS: Tell us a little about your gym, Peak Performance. What makes it unique?
JD: First of all, thank you for wanting to interview me for your Blog. Originally, I started Peak Performance in a 2,000 square foot training loft in Gramercy Park back in 1997. After about 3 and ½ years, my business started to outgrow the size of that location so I began to look for a bigger space. During those years at the Gramercy location, my knowledge base as both a trainer and a business owner grew as well so I wanted a space that would accommodate both.
So in 2002, I decided to relocate my business into my dream space. I had found a beautiful (although pretty much raw), sun drenched, 10,000 square foot loft in the Chelsea-Flat Iron area. It was a big move—and definitely a risky one—for me at the time because my actual business wasn't really large enough to sustain a space that size. But, I loved the space and I felt that it would give me the ability to equip it with the all the necessary tools so that we could accommodate any type of client from the general public to an elite athlete.
In the beginning, like most business, I experienced growing pains, and lots of stress, but I just kept plugging away. And now, with the support of an amazing management team and staff, I have something that I'm really proud of. Peak is like a trainer's paradise. We have just about every training tool that you can imagine, ranging from Kettlebells, sandbags, dragging sleds and Prowlers to Keiser Power Racks, AT/VO2 Testing equipment and a Woodway Force Treadmill.
BJS: How do you do to keep up with continuing education?
JD: : I love to learn. My Dad instilled in me at an early age that no one can ever take your education away from you. So, once I decided to get involved in the fitness industry, I made it a point to learn as much information about exercise science as I could, from as many people and resources as I could. I've traveled all over the place to learn and I still do to this day. In fact, I already have numerous seminars that I will be attending on my 2011 calendar.
This year is going to be a bit different for me in that I've also decided that I'm going to start teaching myself. I've developed a Program Design Seminar and I'm currently putting the finishing touches on an Energy System Training seminar. In addition to these two seminars, I'm almost finished compiling an entire educational manual for my training staff that is broken down into about 14 different modules, ranging from client intake and assessment to recovery and regeneration. I've pulled information from everywhere in order to put this manual together and it will be a mixture of theory and practical application of the various topics. I'm also toying with the idea of turning this entire project into a mini-mentorship program to be held at Peak for small groups of trainers.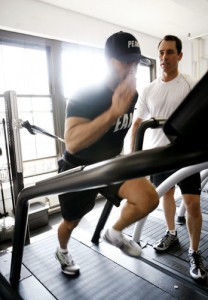 BJS: One of your areas of expertise is program design. What do feel is the most important component of program design?
JD: I love designing training programs especially if it's for an elite level athlete. When designing programs for athletes, I have to manipulate so many factors that it's very mentally stimulating for me as a coach. The single biggest factor in designing a successful training program is defining what the primary goal of the client or athlete is. Once you know that, you can start to look at all of the other factors such as how much time do we have; what's their current starting point; what limitations do we have to factor in (i.e., past injuries, current injuries, time restraints, etc.): what other kinds of training are they going to be doing; how many days a week are they willing to commit to training; how's their nutritional habits; how's their stress levels; how's their sleep; etc. If you don't consider all of these things in designing a training program for your client or athlete, than you are not doing your job as effectively as you can and in essence you are designing training program with a blindfold on.
BJS: Couldn't agree more. Following up on this topic, what would you say is the biggest mistake that trainers make when designing routines for clients?
JD: There are several mistakes that many trainers make in designing training routines:
• The first mistake is they don't progress their clients properly. If a client can't perform an exercise, than you need to regress the movement pattern to something that they can perform successfully. On the other hand, if something is too easy, than you need to make it more challenging. But, you should only micro-progress them to the point where it elicits a favorable training response (i.e., positive adaptation) without over-stressing them.
• The second mistake is that they don't vary their client's training programs strategically. It makes no sense to vary your clients training programs just for the sake of creating variety. Make sure that there is a thought process to your decisions.
• Another big mistake many trainers make is that they will often allow their clients to sacrifice the quality of movement for the quantity of movement. In particular, this happens a lot when trainers are conducting metabolic resistance training programs because they are so focused on the amount of work (i.e., the number of reps that their client can get done in 30 or 45 seconds) that they forget to monitor the quality of those reps. Make sure your clients develop good, fundamental movement patterns before challenging them with things like high speeds of movement or introducing circus-like exercises. And, with the latter, make sure there's a really good reason to be putting your client in that position (i.e., risk vs. reward &/or is it necessary to get them to their goal).
• Don't just have your clients train for strength endurance. Make sure you improve other strength qualities in your clients as well. Even if their goal is fat loss, you should still incorporate some periodic phases of higher intensity strength training or even some power endurance training.
• Finally, many trainers develop an emotional attachment to a particular training tool or to a particular style of training. The only emotional attachment that you should have as a trainer is to your client's goal. Period!!!
BJS: What's your view on periodization? Do you incorporate it into your training programs?
JD: I always use some sort of periodization with all of my clients even with my general population clients. Typically, I will alternate between blocks of accumulation and blocks of intensification. Depending on the client or athlete's goal, current ability &/or training experience will help dictate the length of time of each block and the intensity of the block. In addition, I always have one main training priority in each training block, but I will also have a secondary priority and sometimes a third one, which may just be something like as additional flexibility work.
The main priority is always going to come early on in the training session and the secondary priority will follow it. Additionally, if a client or athlete comes in and they slept really poorly the night before or were out late getting drunk (it happens) or they haven't eaten anything in several hours, I will modify that day's training session. But typically, I have a program that we follow and I log every workout. I believe it really important to keep accurate training logs for all of your clients/athletes.
BJS: I know you train a lot of mixed martial arts competitors. What factors go into program design for these athletes?
JD: MMA athletes are probably the most fun to train. I've worked with a variety of athletes from many different sports and these guys are just a breed apart. Their work ethic is awesome. Designing training programs for them is very challenging because their needs are extremely diversified. An MMA fighter requires a mixture of different strength qualities, such as strength endurance (i.e., dynamic, static and explosive), maximal strength, strength-speed (i.e. explosive strength) and speed-strength (i.e., reactive strength and starting strength). They also need to be well conditioned.
For them, in addition to evaluating their movement and structural balance, I will also consult with their other coaches; watch video tape of their past fights as well as video of an upcoming opponent (if applicable) before creating a training program for them. The key is to strengthen their weaknesses while continuing to improve upon their strengths.
Contrary to what many MMA strength coaches think, fighters do need to develop their Aerobic system, and in particular, the power of their Aerobic system. They also need to increase the power (and to a certain extent the capacity) of their Anaerobic Alactic system. You can always see the fighters that fail to develop the power of their Aerobic system because they are the ones that gas out before the end of a round or don't come out fresh at the beginning of the next round. Anyway, I could spend hours talking about how to properly train MMA athletes.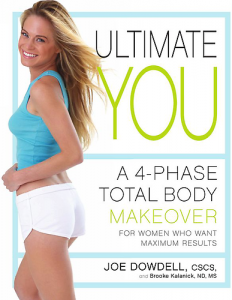 BJS: You have a new book out, Ultimate You. What was the impetus for writing it? What do you hope that readers will take from it?
JD: : Basically, I teamed up with Dr. Brooke Kalanick (a naturopathic physician and a very smart cookie) to write the Ultimate You. I was so tired of seeing so many poorly written books on fat loss, both from a nutritional and training perspective, especially for women. I have seen so many women (and some men) over the years spin their wheels trying to get lean. There is so much misinformation out there on how to get lean and most of it is unfortunately directed at women. The reality is that a lot of this misinformation is driven by the media's fascination with celebrities and those who train them. Don't get me wrong, there are celebrity trainers that are very knowledgeable and do create real changes in their clients, but the reality is that the majority of them do not. I know this last statement might upset some people, but it's my honest opinion and I think it's important for people to know the truth. Furthermore, women love trends and they love to buy into them. If they just followed the truth, instead of the latest fitness trend, they would achieve the body they want in a less time.
I've trained tons of celebrities over the course of my career and the one's that got in the best, trained hard and ate well. None of them trained 6 hours a day like I've heard some celebrity trainers attest to. In fact, if a celebrity or any client for that matter (unless they are an endurance athlete) is able to train for more than an hour, than they probably aren't training with enough intensity or they are spending way too much time talking during the session. Secondly, if any trainer tells a female client that they should never lift more than 15 lbs. or that they should only use 3 lb. dumbbells because otherwise they will get bulky, they are a moron. The shape of your muscles is pre-determined by your genetics. You either have long muscle bellies and short tendons or short muscle bellies with long tendons. Finally, a lean muscle is simply one with less fat covering it.
Ok, now that I got that off my chest, we wrote the Ultimate You to dispel a lot of the misinformation that liters the bookshelves of Barnes & Noble and give people the real scientific information that they need to know in order to achieve real, sustainable fat loss. We cover everything from nutrition to training to the underlying mechanisms, such as hormonal imbalances, that could be inhibiting an individual's fat loss efforts.
Finally, I'd like to say thank you again for giving me this opportunity. I have a lot of respect for your work and when I read your review paper on Hypertrophy in the NSCA Journal, I was blown away. I'd really love to have you down to my facility to talk about the topic to my trainers as I think they would love it.
BJS: I'd be happy to Joe. Many thanks for taking the time!
You can read more about Joe at his website: Joe Dowdell
You can read more about Joe's gym at: Peak Performance Gym
You can read more about Joes' book, Ultimate You at : Ultimate You