Mark Young is a up and coming fitness pro who is noted for his researched-based approach to fitness. I've known Mark Young for some time now, and have enjoyed discussing and debating the application of current research on a variety of fitness topics. Mark has recently released a new audio series that deals with how to read fitness research. It's a great product, and I wanted to give him the opportunity to share his knowledge about some of the issues involved in interpreting and extrapolating the results of peer-reviewed studies to everyday life. I think you'll find it an interesting read.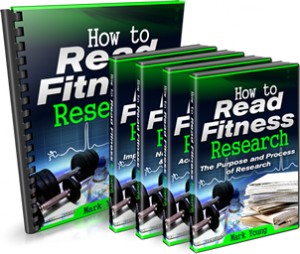 BJS: Thanks for consenting to this interview, Mark. Let's begin by having you tell us a little about your background.
Mark Young:: Basically I am just a strength coach with a fascination (read: obsession) with research. I've spent the last 11 years training people to look great naked and my my writing has been featured on T-Nation.com, StrengthCoach.com, WannaBeBig.com, and in magazines like Muscle & Fitness, and Experience Life. I've also had the opportunity to do some research myself in one of the leading muscle protein metabolism labs in the world and hope to be defending my Masters in the fall.
BJS: You've recently come out with a new product called, "How to Read Fitness Research." What motivated you to create this product?
Mark Young:: To be totally honest, I've been thinking about creating this product for a long time but a lot of my good friends have discouraged me from doing because they feel that it won't be a big seller (it isn't as sexy as losing 20 pounds of fat in 46 seconds) and it might offend some other big names in the fitness world (the ones selling the aforementioned products) as it will shine a great big spotlight on the BS that they're selling.
Of course, I've never been one for sticking to the rules and, quite frankly, I really don't care whether I make a great deal of money off of this product or not. As a result I decided to finally pull this product together to give fitness professionals and serious exercise enthusiasts the power to cut through the marketing hype and widespread misinformation to create the very best fat loss, muscle gain, and sports performance programs for themselves.
BJS: You mention that there is a lot of misinformation out there about fitness. Can you give some examples?
Mark Young:: I could probably go on about this all day, but I think one of the best examples is the widespread use of the Tabata protocol for fat loss. While they are certainly challenging, the studies from which these workouts were derived were not intended to measure fat loss at all! In fact, there is no evidence to date that the Tabata protocol is any better than any other exercise program for fat loss.
And up until recently, there was a very popular theory that eating more frequently was associated with a higher metabolic rate and that not eating would force the body to go into "starvation mode" which we now know is totally bogus.
There are probably hundreds of examples I could give, but the point is that they are EVERYWHERE and it is easy to get swept away in the excitement and follow the herd if you're not careful.
BJS: Why shouldn't a person simply rely on their favorite fitness expert for interpreting research on exercise and nutrition?
Mark Young:: Honestly, I'm all for listening to what other bright minds have to say. I even subscribe to a couple research review services myself. However, I think it is important to know that when you listen to someone else's interpretation it is subject to their biases, experiences, and understanding of that particular area of research.
I often chat with others and later review the research for myself only to come up with a totally different conclusion (based on my own biases, of course). This process breeds more discussion and ultimately I'm more able to create better fat loss, muscle gain, and performance programs because of it.
BJS: Why can't a person just read an abstract of a research paper and get the main points?
Mark Young:: Great question! The abstract is basically a summary of a whole paper and the results of the study. Or more correctly, the abstract is a summary of the paper and the author's interpretation of the results of the study. As a result, you have no idea what methods the author used to complete the study and whether the results actually say what the author believes they do.
For example, an author could put people on two different diets and say in the abstract that the fat loss associated with one diet is greater than the other. If you didn't read the methods within the paper you might have missed that the author only recorded changes in body weight to measure the effectiveness of the two diets. In this case, making a leap from weight loss to fat loss isn't warranted as there was no way in the study to determine if the weight actually lost was muscle or fat. If you only read the abstract, you wouldn't know any of this.
BJS: Why does it matter if a study is funded by a particular company?
Mark Young:: I have to admit that the lab that I had experience with did a really good job at dissociating itself from any funding agencies. However, when studies are funded by supplement companies, you have to watch for potential bias of the researchers as companies can sometimes lean on them to publish positive results. Of course, I'm not saying that this is always the case, but you certainly have to keep your eyes out for this. Authors have to declare their sources of funding at the end of the paper (which is yet another reason to read the whole thing).
I recently read a meta-analysis (a study of studies so to speak) of the research on glucosamine and it turned out that the bulk of the studies showing a positive effect on joint pain were those funded by companies selling a glucosamine product. Those not funded by a glucosamine selling company were less likely to show the product was useful.
So again…you have to have your eyes open. I think a lot of people are using glucosamine that might not otherwise be if these results were well known.
BJS: Does it make a difference what journal a study is published in?
Mark Young:: Well…If you see a study published in the Journal of Hyooge Musclez then you can pretty much disregard anything written there.
Journals are very different in their criteria for acceptance and the best articles will only make it into the most stringent journals. Journals like Nature and Science are probably two of the hardest to get a publication in. Some people use something called Impact Factor to determine the value of a journal which is something I don't do, but you have to know the good from the bad.
In my product I've included a list of over 20 journals worth looking at. Just sayin'.
BJS: You have a couple of bonuses included with the product. Can you tell us a little about what they are?
Mark Young:: One of the bonuses is an interview with my Masters thesis advisor Dr. Stuart Phillips who talks extensively about anabolic signalling, protein synthesis, and hypertrophy. If you're into understanding how research on muscle growth is done, you can't do much better than interviewing someone from one of the best labs in the world for doing exactly that. I've done a ton of interviews in my day…and I think this is one of the best.
Another bonus I've included is a short video tour through the online research search tool called PubMed. I talk extensively about how to use search keywords, limits, and different properties of the site to find exactly what you want when it comes to training and nutrition research.
And finally, since podcasts are very popular these days (and because a lot of people love to listen while driving) I've included the MP3s of all of the seminars in the product so people can listen on the go.
BJS: Any final thoughts, Mark?
Mark Young:: Ultimately, I guess the take home point of this whole interview is that you can either put your faith in someone else's opinion or form your own. With all of the misinformation out there (and personal biases of those reading the good information) I think that the best way to have power over your situation is to read the information yourself.
Thanks a ton for doing the interview Brad! I really appreciate it!
You can check out more about Mark at :Mark Young Training Systems
You can read more about Mark's product at: How to Read Fitness Research