Want to get rid of cellulite? Then perhaps you've thought about using one of those magic creams or treatments designed to smooth out the afflicted area. If so, think again.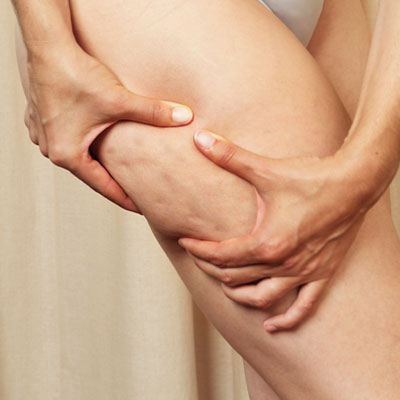 As almost every woman knows, cellulite is the term for the dimple-like formations that appear in fatty parts of the body, most often the butt and thighs. What most don't realize, however, is that cellulite tends to be hereditary; if your mother and siblings have it, chances are good that you will too. Like your height, eye color and hair texture, genetics dictate where fat is deposited and the semblance that it takes on your body. Hence, while some women can be obese with little evidence of cellulite, others can be relatively thin and have cottage cheese thighs.
Why can't a cream or pill help to reduce cellulite? Because cellulite is actually related to the composition of your skin. Underneath your dermis (upper layer of skin), you have a layer of fibrous connective tissue called superficial fascia. This connective tissue holds down fat into place. However, in many women, the superficial fascia is discontinuous and has "gaps" that allow fat to poke up onto the skin surface in clusters, creating the dimpled appearance associated with cellulite. Thus, there simply is no mechanism for magic cellulite potions to repair the gaps in connective tissue.
The only way to significantly diminish the appearance of cellulite is through dedicated exercise and proper nutrition. By stripping away fat to low levels, there won't be much fat to press up on the skin. And by adding lean muscle, you'll help to give the area an even tone and provide a supporting structure for a firm, smooth appearance. Unfortunately, there are no shortcuts.
Stay Fit!
Brad

Bookmark this on Delicious