It's well-known that if you place a muscle in a chronically shortened position, the muscle will adapt by shortening (i.e. losing sarcomeres in series) over time. This is one of the theories as to the genesis of lower back pain (LBP), where long periods of sitting cause the hip flexors to tighten, pulling the pelvis forward and thereby increasing strain on the lumbar region. While it should be noted that some researcher dispute whether this actually does lead to LBP, nevertheless the change in muscular structure does result in imbalances between core muscles, and that's never a good thing.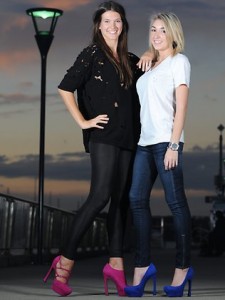 With this in mind, a recent study caught my eye. Researchers from Manchester, UK (1) investigated whether wearing high heels cause the gastrocnemius (one of the calf muscles) and the Achilles tendon to shorten, thereby compromising lower body function. The study included 20 women, 11 of whom wore high heels on a regular basis (the other 9 served as a control group). As might be expected, results showed that the gastrocnemius muscles of the women who wore high heels were in fact shortened, and their Achilles tendons displayed increased stiffness. The researchers speculated that the combination of factors might reduce the active range of motion in the ankles of those who wear high heels, possibly explaining why these women experience discomfort when walking in flat shoes. Interestingly, however, there was no loss of force production at the ankle joint, as apparently the increased tendon stiffness compensated for the reduced force capacity of the muscle.
The take home message here is that chronically placing a muscle in a shortened position will have negative effects on that muscle. And since every muscle is counterbalanced by an antagonist muscle, this ultimately leads to imbalances in your body that may have detrimental effects. Bottom line: try to limit the amount of time you spend in heels; they may look good at the time, but their long-term effects might not be worth the short-term satisfaction.
Stay Fit!
Brad
1) Csapo R, Maganaris CN, Seynnes OR, Narici MV. On muscle, tendon and high heels. J Exp Biol. 2010 Aug 1;213(Pt 15):2582-8.