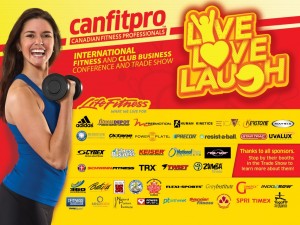 I will be speaking at next month's CanFitPro International Fitness Conference. The conference will take place at the Toronto Convention Centre in downtown Toronto, Ontario Canada from August 17 to 21, 2011. This will be my fifth straight year presenting at the conference, and it always is one of the best fitness venues I've had the pleasure to speak at. The following is a list of the sessions that I will be presenting. I'm particularly excited to be co-presenting with my friend and colleague Bob McAtee on the science of PNF stretching. Hope to see you there!
Program Design for Muscle Hypertrophy: Muscle development is of primary interest to those who lift weights. This workshop will elucidate the science behind optimizing muscular hypertrophy. It will detail the effects of manipulating intensity, sets, repetitions, and rest intervals on growth, as well as exploring the roles of factors such as exercise modality, training to failure, speed of movement, and recovery. The significance of acute hormonal fluctuations and lactate production and their effects on increasing protein synthesis will be addressed. Sample routines are offered in the context of a periodized approach to help the practitioner with perfecting program design.
Optimal Fat Burning Strategies: Losing body fat is the # 1 reason why people work out. This seminar will explore the science behind fat loss, debunking several of the more common myths on the subject. A research-based approach is taken to present the most effective exercise strategies for optimizing fat loss in a safe and efficient manner.
Facts and Fallacies of Fitness: The fitness field is rife with folklore that often leads to questionable practices. This lecture helps separate fitness fact from fiction to reveal the real truth about many myths and misconceptions associated with exercise and sports nutrition. An evidence-based approach is taken to examine the validity of many long-held fitness beliefs in this informative and entertaining seminar. An interactive question and answer session is provided to address specific questions on the topic.
Scientific Stretching: Mechanisms and Application of PNF Techniques: Flexibility is an integral component of a fitness routine, and can help to improve functional capacity and athleticism while reducing the potential for injury. Proprioceptive neuromuscular facilitation (PNF) is one of the most popular and effective techniques for improving measures of flexibility. This combined lecture/workshop details the mechanisms of PNF while reviewing the research into its effects on joint range of motion and sports performance. Participants will learn and practice specific PNF techniques to illustrate practical application.
You can register at the following link: Register for CanFitPro