Today's blog post will be a guest-post from my friend and colleague, Anoop Balanchandran. For those who don't know, Anoop is one of the most astute trainers around. In addition to being a top fitness pro, he is the founder of the excellent site, Exercise Biology, which provides cutting-edge articles and discussion about a wide range of fitness and nutritional topics. What I particularly admire about Anoop is his commitment to evidence-based practice. His article here shows his passion on the subject. I think you'll find it to be highly informative. Hopefully it spurs thought and discussion. Feel free to chime in with your comments/feedback.
Why We Need an Evidence-Based Approach in the Fitness Field
By Anoop Balachandran, MS, CSCS


We have so many experts in the field who have been working in the trenches for years and getting results. So what is really the need for an evidence-based approach? Why do we spend millions of dollars on research? And why are people like myself, Brad Schoenfeld, Mark Young, Lyle McDonald, Alan Aragon and a few others so bent on scientific studies?
In this article, I am going to write about why evidence-based medicine evolved in the first place. Or what circumstances in the history of medicine led to the evolution of evidence-based medicine. These are the very same reasons evidence-based approach is used in other fields too, including fitness and strength conditioning.
I always felt that if you don't understand why the evidence-based approach evolved, you will never really be bothered to look up studies or hear the science. You will of course say research is important, but will always be swayed by anecdotal evidences.
Almost everyone falls back to 3 types of evidences when they don't have any scientific studies to support: Ancient wisdom, expert opinion, and common sense. What follows is a discussion of the problems with these approaches along with relevant examples of each:
Ancient wisdom
This is one of the most common arguments that are posed as "evidence" for why certain treatments should work or why it should get a pass from being tested scientifically. It is assumed that the longer the treatments existed, the stronger the evidence that it works.
Ancient Pharmacology: It is often quoted by medical historians that we used to use diuretics, purgatives, emetics, abortifacients and other drugs even before pharmacologic science evolved. And it is very true that they existed, but the effects of these drugs are grossly misleading.
Emetics work by making people vomit, but what conditions did vomiting help? Purgatives are useful for constipation, but nothing else; they only serve to dehydrate and weaken the people who were already dehydrated and weak. Diuretics were most commonly used for acute infections, but they only made the existing condition worse. Drugs were used to make people sweat thinking that it will get rid of toxins, but the only things they got rid of were essential fluids and salt from the body that was vital for an ill person. Crocodile dung was even placed in women's vaginas for abortion and to prevent conception!
What about surgeries? Ancient Egyptians were skillful enough to remove a portion of the skull without killing the patient, but they didn't have any clue what they were doing inside the skull in the first place. They performed these surgeries in people who had psychological problems yet all it did was cause pain and death for most. It is known that ancient Egyptians used moldy bread to treat infections. But even in the 19th century, even after we knew there was something in penicillin that could kill bacteria, the doctors struggled to get some practical benifits. Without the right species and chemical procedures to extract concentrated amounts of it, it was just useless. Now what chance does moldy bread stand in healing? The list can go on and on. There were some treatments that did do well such as mercury, antimony, and such. But the benefits were heavily outweighed by the harms that came with them.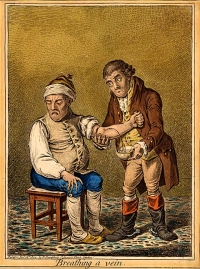 Bloodletting: The practice of bloodletting was the standard medical treatment for almost 2500 years, lasting even till the 19th century. The most common form of bloodletting was cutting the vein, besides using cups and leeches.
It was based on the humoral theory of disease: all diseases and disabilities resulted from an excess or deficit of one of these four humors. The ancient Ayurvedic system in India, traditional Chinese medicine and Unani are very similar to the humoral theory. The four humors were black bile, yellow bile, phlegm, and blood.
Sick patients were thought to have an imbalance of their humors, which bloodletting was thought to restore. Doctors bled patients for every ailment imaginable. They bled for pneumonia and fevers, back pain and rheumatism, headaches and melancholia; even to treat bone fractures and other wounds.
Here is a quote from a historian on the subject: "The total quantity of blood taken amounted to 124-126 ounces or 3.75 liters, drawn over a period of nine to ten hours on Saturday, December 14, 1799." The patient: George Washington – the first president of America – died that very same day. What do you think killed him – the infection or the "treatment"?
Now think about it for a second: Bloodletting endured for more than 2500 years and was considered as the major medical treatment for almost every disease. How can so many millions of people and thousands of experts go wrong for hundreds of years?
Expert Opinion
Experts in every field have one thing in common – an unflinching self-confidence in their treatments and procedures.
Galen was the greatest physician of ancient Medicine after Hippocrates. Galen wrote about one his potions: "All who drink of this remedy recover in a short time, except those whom it does not help, who all die. Therefore, it is obvious that it fails only in incurable cases." In short, if you got cured, it's his medicine. If not, it is your fault.
In 1920, not all that long ago, William Osler, often called father of modern medicine and one of the most influential medical authorities in the world wrote: "To bleed at the very onset in robust, healthy individuals in whom the disease sets in with great intensity and high fever is good practice."
Sleeping Babies: Dr. Benjamin Spock was one of the foremost experts in pediatrics. His book titled, Baby and Child Care, was the bible for both professionals and parents, especially in USA and UK for several decades. He wrote that a disadvantage of babies sleeping on their backs was that, if they vomited, they would be more likely to choke. Dr Spock therefore advised his millions of readers to encourage babies to sleep on their tummies. Sounds reasonable right?
Later scientific studies showed that babies sleeping on their stomachs increased the risk of sudden infant death syndrome. We now know that this advice, apparently rational in theory, led to the cot deaths of tens of thousands of infants.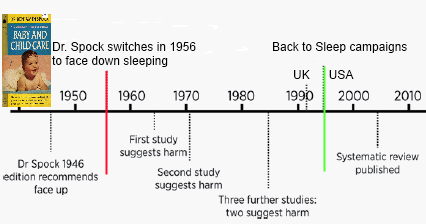 Repressed Memories: Though we dumped most of the Freudian concepts of psychoanalysis, repressed memories still lingered. The subject of repressed memories has been one of the most controversial areas in psychology. Therapists claimed that anxiety, eating disorders, depression were due to memories of childhood sexual abuse that were repressed. And 'therapy' can unearth these buried memories.
The 1980′s began to see thousands and thousands of court cases being filed against parents, former neighbors, former teachers, former ministers and priests for sexual abuse based on newly discovered memories.
A few years later studies showed that suggestions and leading questions by therapists can implant false memories and that repressed memories have very little evidence. Imagine the pain of those fathers who went to grave bearing the burden of their own daughter falsely accusing them of sexual abuse. This is another example of how experts were unwilling to scientifically question their casual observations and beliefs that can lead to disastrous consequences. .
Lobotomy: The New York Times once wrote this about lobotomy: "…a groundbreaking medical procedure that promised hope to the most distressed mentally ill patients and their families". The treatment was pretty simple: You surgically sever certain connections in the brain. Walter Freeman made it even simpler – he could do the procedure within 5 minutes without the need of a surgical room and anesthesia. Freeman's "ice-pick" lobotomy involved inserting an ice pick like-instrument through the eye socket, tapping it with a hammer, and 'wiggling' it around to sever the frontal lobe. In 1949, the number of lobotomies conducted rose to 5000 per year. There were a few success stories, but for many patients the procedure resulted in a vegetative state, or reduced them to a childlike mental faculty.
Later this treatment was considered as one of the most barbaric mistakes of modern medicine. In his dying years, Walter Freedman travelled across the country to see his former patients to show the world that lobotomy "helped". Just like most experts, he still couldn't see where or what went wrong.
All these examples show how even well-meaning experts who have practiced their art for years in their field can go horribly wrong.
Common sense
This is another reason how treatments are justified in the absence of scientific studies. If the theory makes sense, why not use it.
Heart Rhythm Abnormalities: Heart rhythm abnormalities are associated with an increased risk of death after heart attack .So the theory was that a certain drug would prevent heart rhythm abnormalities and thus lower early deaths. The drug was licensed and the drug was prescribed in 1970. Most doctors were convinced of the drug from their excellent 'results'. Just to convince the minority of unbelievers, a large scientific study was conducted in 1987.
As expected, the drugs stopped the abnormal heart beats in the study. It also stopped the heart. The five- year study was stopped in two years because people on these drugs were dying. At the peak of their use in the late 1980s, it is estimated that they may have been killing as many as 70,000 people every year in the United States alone – many more than the total number of Americans who died in the Vietnam War.
Hormone replacement Therapy (HRT): Hormone replacement therapy was based on the rationale that restoring estrogen levels in menopausal women would be helpful. This made sense since the female body stopped producing estrogen during menopause so replacing the estrogen could conceivably bring back the lost youth. HRT claimed to prevent heart attacks and strokes and millions of people, advised by their own doctors, started taking HRT.
In 1993, Women's health initiative study was embarked to confirm the belief that HRT was saving lives. The study was stopped early because the number of deaths from breast cancer was higher in the hormone treated group. This study was later confirmed by other two large trials. It is estimated that in the UK alone the use of HRT was causing an extra 2000 cases breast cancer cases a year.
The thalidomide disaster, diethylstilboestrol (DES) disaster and many other tragic stories from the past have reminded us again and again to be very skeptical of our casual conclusions. There are even more not-so tragic stories of treatments that were claimed to be effective for specific conditions, but later proved to be ineffective. In the fitness and strength and conditioning field, there are a lot of programs just based on grandiose theories, expert opinion and testimonials but yet to be scientifically tested.
Conclusion
I can keep going on and on, but hopefully it's clear that an evidence-based approach was born because experts, ancient medicine, and theories were getting it wrong – so wrong that people were dying in thousands. Most of these experts were the foremost experts in their field and had mastered the so-called art of medicine or treatment.
I hope this article serves to show why treatments, workout programs, diets, and theories should be scientifically tested or simply why we need an evidence-based approach.
Bloodletting and Lobotomy maybe long gone, but experts, theories and uncertainties still remain.