The 2012 NSCA Personal Trainer Conference was held in Las Vegas at the beautiful M Resort (and it really is a magnificent hotel!). I had the pleasure of speaking there–my seventh time presenting at the event– and, everything considered, this was the best of them all. My topic was "Facts and Fallacies of Fitness." It's a subject that I've spoken on before, but the topics I covered were all new. I had good-sized crowds for both lectures (at the PT conference, you present the same lecture twice–once in the morning and once in the evening) and the response was excellent. NSCA trainers are at the top of the food chain, so it's always great presenting to a knowledgeable, inspired audience.
What made the conference so special, though, was both the quality of the other presenters and getting to hang out and chat fitness with many of them. In particular, I spent a lot of time with my two good friends, uber trainer Bret Contreras and uber nutritionist Alan Aragon. Both of these guys are super smart and super humble. What's more, they're as passionate about fitness as me, and that's really saying something! Most memorable was going to dinner (the M resort has an awesome buffet!) with the two of them and spending 3+ hours discussing and debating aspects of exercise and nutrition. We got so wrapped up in discussion that at 10:30 pm, the waiter told us the restaurant had closed–an hour-and-a-half ago! Below is a pic from that epic evening. That's me on the left, Bret in the middle, and Alan on the right.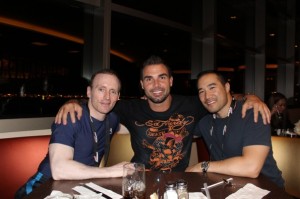 There were so many excellent presenters that it was impossible to see every session I would have liked (the presentations are structured so that four speakers are presenting at any given time slot). Here is a rundown of the sessions I did get a chance to see:
Alan Aragon: Alan presented on nutrient timing. This guy is the real deal! I've known Alan for quite a while now and no one–I mean *no one*–has a better grasp of nutritional research and its application to real life situations. Ask Alan a question on a nutrition topic and he'll rattle off answer supported by research with the name of the author and year of the study faster than you can bat an eyelash. In his presentation, Alan discussed various misconceptions about nutrient timing and also touched on the issue of meal frequency. Bottom line from Alan's perspective is that the importance of nutrient timing exists on a continuum. If you are a recreational athlete or someone who simply wants to add a little muscle, the importance of timing will be negligible; if you are a bodybuilder or strength athlete, there will be added importance; and if you are an athlete that needs to compete multiple times in the same day, the strategy is crucial.
Brent Alvar: Dr. Alvar presented on the dose-response relationship of exercise. Doc just happens to be the chair of my doctoral dissertation committee and one of the most knowledgeable guys in the field on strength training adaptations. His presentation focused on the importance of higher volumes of training in promoting increases in strength and hypertrophy–the single set approach, which certainly can produce gains, simply is not sufficient if maximal results are desired. Dr. Alvar also delved into the importance of periodization, stating that different periodization models can be appropriate depending on the goals and abilities of the individual. He advocated a non-linear (i.e. undulating) approach for those who need a combination of strength and muscular endurance (i.e. military personnel, firefighters, etc) whereby you perform a three-day-a-week routine, lifting heavy on Monday, moderate on the Weds, and light on Friday.
Morey Kolber: Morey is not only a close friend, but he also is one of the world's leading researchers on shoulder joint injury and rehabilitation. Morey discssed an evidence-based approach to working with clients who have had shoulder injuries in a post-rehab environment. He discussed the importance of avoiding exercises such as behind-the-neck presses and behind-the-neck lat pulldowns in this population due to the increased stresses on the joint. He also showed video demonstrations of various stretches that can be performed to improve functional results. Terrific, practical info!
Marie Spano: Marie is a super-knowledgeable Registered Dietician who isn't afraid to refute typical American Dietic Association dogma. Her presentation focused on the importance of total caloric intake in weight control. She used practical info to make her points, including overviewing the Twinkie Diet that helped nutrition professor Mark Haub lost 27 pounds in just ten weeks eating pretty much nothing but junk food–just to prove that the first law of thermodynamics applies to weight loss. Proof positive! She also discussed application of different nutritional strategies to optimize results, stating that a low-carb approach can work well for those who are insulin resistant.
Len Kravitz: No, this isn't the singer/guitarist. Rather, Dr. Len Kravitz is perhaps the most dynamic fitness presenter I've seen. The guy is such a total pro and his Powerpoint slides are amazing. I study his techniques and try to adopt many of his attributes into my own style. If I've grown as a speaker over the past few years, I have Dr. Kravitz to thank. Here, he presented on high-intensity interval training (HIIT). In case you don't know, HIIT involves alternating between high-intensity cardio intervals and low-intensity cardio intervals. As usual, Dr. Kravitz had tons of video examples of different HIIT strategies and how they can be applied based on the needs of the individual. Most interesting was his chart at the end of the presentation where he compared HIIT to traditional 'steady-state' cardio. He noted that all things considered, HIIT has the edge when you consider the totality of the adaptations promoted by each respective approach. Bottom line: If you can do HIIT, it's probably going to be the most beneficial way to achieve cardiovascular benefits.
Again, this was just an awesome conference. Great people, great presentations, great times. My only regret was that I didn't have more time to see some of the other terrific presentations. Next up: The NSCA National Conference this July in Providence, Rhode Island. I'll be presenting a pre-con on training for maximal muscle growth as well as a main session on metabolic resistance training. Can't wait!
Stay Fit!
Brad