Here is an interview I did with Jonathan Goodman. For those who don't know, Jon is a rising star in the field of fitness marketing. In particular, he has an expertise in the use of social media as a publicity tool. Jon also is the founder of the Personal Training Development Center, an excellent resource on all aspects of career-building for personal trainers. And he's also affiliated with Girls Gone Strong, a popular site for female strength training.
Quick story: Jon approached me a couple years back about getting involved with the site. I politely declined, stating that I really didn't have the time given my other commitments. Jon didn't take 'no' for an answer. A couple month's later, I was doing a book signing at a fitness conference in Toronto and Jon appeared at the event to speak to me about it in person. Through his persistance and communication that the endeavor wouldn't require much of my time, I ultimately agreed to his request. Ever since, I've been consistently impressed with the content he puts out and his mission to enhance the quality of those in the field. I think the information he discusses here in this interview should be of interest to everyone, as basis of these principles apply to all fields. Enjoy!
You recently left your job as a successful personal trainer. What motivated your decision and what are you currently doing?


It was a hard decision and I already miss it. Unfortunately I found that I wasn't giving my clients enough attention. My focus was on my various web ventures. I feel that I can reach more people by scaling my efforts than working one on one. It wasn't fair to continue charging my clients a premium so I stepped aside. I'm lucky in that I worked at a gym with an amazing training team knowing that my clients are all looked after.
I have a couple major projects on the go:
1) The PTDC (Personal Trainer Development Center) is growing faster than ever. We are putting together some smallish manuals right now and have another seminar happening in Toronto on October 6/7th. It's shaping up to be a great event and I'm excited for it.
2) MightyTrainer took a bit of a hiatus. We launched the comic with a lot of buzz but it quickly died off as the strips weren't good enough. Teiko and I have revamped them and are releasing comics now that are better then ever. The crux is that we take all of the silly things that happen in the fitness world and blow them so far out of proportion that everybody laughs.
3) Girls Gone Strong has just launched their website. I've been working with them behind the scenes for a couple months and am really excited to see the movement take off. They're the brains behind the operation but I am acting as a manager and social media guy.
4) I have just started to write my 3rd book. "Ignite the Fire: The Secrets to Building a Successful Personal Training Career" and "Race to the Top: How to Take Over the Social Media Feed" have been huge successes. The topic of the next one is still a secret but it gets deep into research concerning social contagion and viral theory.
5) Beyond that I blog a couple times a week on my personal site, jonathangoodman.ca. That's where I talk about social media and marketing.
I read your new book, "Race to the Top." Great job. You pack a lot of info into a very easy read. How did you research the information for the book?
The research was ¾ observational and ¼ theoretical. As sad as it sounds I sat at home for hours each day and watched social media feeds. Whenever anything gained traction in the feed I took meticulous notes concerning:
• Who shared it?
• What the post is about?
• How is the title written?
• What time of day is it?
• Why did I think the post was successful
• And a myriad of other points…
From this I was able to see patterns and built my own theory as to why people share. I then searched for empirical evidence to back my claims up and found that experiments were backing up what I had observed almost to a tee. Nobody had published it yet in an easily digestible book.
Once I recognized the opportunity to be first I blacked out. I took time off of training, shut off my phone, called my girlfriend and parents to tell them I'm out of commission, and shut off social media. I sat in a coffee shop for a week and a half 14hrs a day and wrote with my notes beside me. The end result is better than I would have ever expected.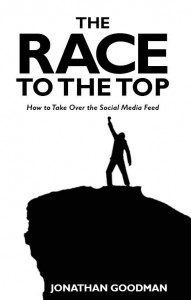 In your book, you state that search engine optimization is becoming obsolete. Can you expand on the reason(s) for this?
To clarify I don't believe SEO is becoming obsolete. What I do believe is that most people who set out to make a name for themselves on the internet shouldn't concern themselves with it. I relate a user who finds a site on a search engine to carpenter ants. You don't know they are there, they hollow you out from the inside, and leave. These people won't stick around for long and usually won't buy anything.
If I sold a targeted product or worked in a neighbourhood gym search engine optimization could be useful. Most bloggers don't have a chance to rank in a search engine. It takes years and lots of back links to take over even minor keywords these days.
As a result I recommend that people work on scaling referrals to their website. I speak of a couple different strategies in Race to the Top. Perhaps the most powerful is to look beyond the influencers and try to find the sharers. There are select people in every niche that like to share material. If you know what to look for they are easy to find. These are the people who build the roads in an industry and you'd do well to get them on your side.
I notice a very different writing style from most books I read. Can you tell us why you chose it?
Hahahaha. I chose it because I can't stand reading non-fiction books. They take 10x longer to read than they should. I wanted to cut out the fluff. I value my readers time and wanted to make every word count.
I also wanted to stay true to the title and make the book a race from start to finish. There are no breaks. Each section flows into the next and it's meant to be read in one long sitting. The feedback on the reading style has been awesome. It seems to have been a breath of fresh air from the stiffness of many non-fiction publications. Something that only a self-published author can do.
What are 3 major takeaways one can take from the book?
1. The feed is everything. Learn how to manipulate it and you will never have trouble selling your service or product ever again.
2. Facebook "likes" and twitter followers don't matter. They are easy to buy. The purpose of gaining an audience is to sell your stuff. Don't believe that more is better. Many of the pages you believe are popular have fabricated their fans to inflate their numbers.
3. If you're a personal trainer you already have exponentially more leads than you'll ever need on your Facebook list. Unless you've thoroughly gone through them don't bother cold calling.
Where do you see social media going in the future?
I don't know and that's the fun part. Facebook may or may not be around in 5 years. Everything moves so fast these days that those who concern themselves with the software will be left behind. There is no gaming of the system anymore because new updates will weed out those who find the loopholes.
The people who will succeed are those that understand the psychology behind why people use social media. Once they do their job is to figure out a way to use whatever software is in vogue at the time to get their message to spread.
What I am seeing is that social media has become the norm. People of all ages are using it and that trend will only continue. It's easier and cheaper than ever to do business across the World. People are also becoming more comfortable buying things over the net, which leads to even more opportunity.
Check out Jon's website at: Personal Training Development Center
Check out Jon's book at: Race to the Top