I recently published a review article in the prestigious journal, Sports Medicine, titled, Potential mechanisms for a role of metabolic stress in hypertrophic adaptations to resistance training. This is one of the most interesting and exciting areas of hypertrophy study, and it is a primary focus of my own research.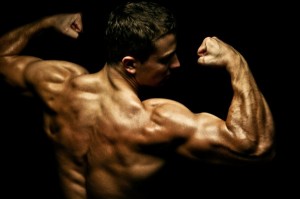 It has been well documented that mechanical tension associated with resistance exercise promotes hypertrophic gains. The forces associated with lifting weights alone are therefore capable of producing muscular growth. What is becoming increasingly clear, however, is that metabolic stress associated with moderate to higher repetition exercise also can promote increases in muscle mass. The mechanisms by which this occur are still not entirely clear, but recent research is beginning to give us insight into the possibilities. As discussed in my recent review, several potential factors have emerged as likely candidates. For those who want the cliff notes, here is an overview of each:
Fiber Recruitment: Perhaps the most established way that metabolic stress appears enhance growth is by increasing recruitment of fast-twitch (i.e. type II) muscle fibers. Recruitment follows the so-called "size principle" whereby the smaller slow-twitch (i.e. type I) fibers are recruited first during muscular activity and then larger fast-twitch fibers are progressively called into play as needed to carry out the action. It is believed that the effects of metabolic stress promote fatigue of slow-twitch fibers, thereby forcing activation the fast-twitch fibers. Understand that fibers must be recruited in order to grow; without such stimulation, there is no impetus for the fiber to adapt. Thus, increased recruitment enhances the growth potential of the muscle as a whole.
Myokines: Another possible means by which metabolic stress may enhance muscle mass is by increasing production of local growth factors. Muscle tissue directly produces a number of growth-promoting substances, which have been termed myokines. Local production of a variant of insulin-like growth factor, called mechano-growth factor (MGF), is thought to be particularly important to muscle development and metabolic stress has been shown to increase its production. Numerous additional myokines have also been implicated in the growth process including various interleukins, fibrobrast growth factor, hepatocyte growth factor and others–and many of them appear to be regulated, at least in part, by metabolic stress. Moreover, there is evidence that metabolic stress may reduce various catabolic factors, ultimately increasing the extent of muscle protein accretion.
Reactive Oxygen Species: The term reactive oxygen species (ROS) generally conjures up negative images. The popular media has demonized ROS as injurious substances that wreak havoc on bodily tissues, causing disease and even death. While this view has some credence with respect to chronically elevated levels of ROS, their acute production following exercise has actually been shown to confer positive effects on muscle development. Specifically, ROS are thought to function as key cellular signaling molecules that promote muscle anabolism. There is evidence that metabolic stress heightens ROS production, potentially helping to increase hypertrophy.
Cell Swelling: One of the most novel mechanisms by which metabolic stress may promote muscle growth is via an increase in the hydration of the muscle fiber. This phenomenon, known as cell swelling, has been found to increase protein synthesis and reduce protein breakdown. Well, it just so happens that metabolic stress is a causitive factor in cell swelling, largely from the corresponding accumulation of lactate. Lactate acts as an osmolyte, attracting fluid into the muscle cell. This, in turn, causes sensors in the cell to perceive a threat to its integrity, thereby initiating a signaling cascade that ultimately enhances anabolism.
Acute Hormonal Elevations: This is one of the more controversial areas of research. Studies clearly show that bodybuilding style training (i.e. multiple sets of moderate reps with fairly short rest intervals) substantially increases post-exercise anabolic hormonal levels. What is less clear is whether these transient hormonal spikes actually play a role in the growth process. Evicence is conflicting and there are large gaps in the literature making it difficult to draw firm conclusions on the topic. I have a review paper just published-ahead-of-print that specifically addresses this topic; I'll have more to say about it soon. Stay tuned…
Summing up, there is compelling evidence that metabolic stress can serve to augment muscle growth. Although we have yet to fully understand precisely how this occurs, it would appear that a combination of factors detailed above are involved in the process. Note that these mechanisms remain largely theoretical at this time, and there may well be others that have not yet been determined.
So how can you use this information? From a practical standpoint, metabolic stress is heightened during resistance training protocols that involve moderate to higher repetitions and fairly short rest intervals. This is typical of the common "bodybuilding-style" method of training and if your goal is to maximize hypertrophy, it appears prudent to include such training as a primary component of your routine. What is not clear as yet, however, is whether metabolic stress provides an additive benefit over-and-above what can be achieved by simply training with very heavy loads. My lab will be exploring this topic over the coming months and I hope to be able to provide some answers in the near future. Stay tuned!
Brad