I'm often asked about whether the workouts at chain gyms such as Curves and Shapes for Women are comparable to traditional exercise regimens. The answer in a word: no. Here's the scoop…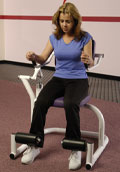 The Curves and Shapes for Women programs use something called hydraulic machines as the primary training modality. The biggest problem with these types of machines is that they don't have an 'eccentric' component. This means on the 'lowering phase', there is no muscular resistance of the agonist muscle. Why is this an issue? Well, the eccentric component has been shown to be vitally important to muscle development. During eccentric activities, there is greater force applied to the muscles and a heightened stimulus to fast twitch fibers—those most conducive towards development. Translation: By eliminating the eccentric component, you end up missing out on more than half the benefit of the exercise and results suffer accordingly.
Moreover, there is no variety in this type of a program. Understand that your muscles are comprised of many thousands of threadlike fibers. When you perform, say, a flat chest press, you will work a large number of the fibers in your pectoral muscles, but not all of them. Only by adding in moves like incline presses, flyes, cable crossovers, etc., will you tap into every fiber of the muscle, thereby promoting complete muscular development. Remember, variety is the spice of exercise; the more you switch around your workout and incorporate different movements into your regimen, the better your results.
Finally, although machines certainly can have a place in a training regimen, they don't compare to free weights and cables as far as transfer of skills to everyday tasks. With machines, you can only move the stack in one direction. Thus, there is little need to stabilize the movement. Unfortunately, this isn't the case if you go to pick up a package or move a piece of furniture. Free weights and cables, on the other hand, require that you maintain balance in all planes of movements, allowing for greater functional transfer.
In a nutshell, I'm a proponent of anything that gets people off the couch and into the gym and that includes gyms such as Curves and Shapes for Women. But it's important to understand that this type of workout won't be as productive as if you'd used a traditional weight training protocol. A combination of free weights, machines and cables will always be your best bet if your goal is to get into shape.
Stay Fit!
Brad

Bookmark this on Delicious