I was watching cable TV last night when a commercial came on the air for a product called the "Belly Burner." I nearly dropped the cup of hot green tea I was drinking in my lap.
The ad for the Belly Burner shows several fit people securing a large neoprene belt around their waists with a promise that simply wearing the belt will help to develop "firmer, tighter, sexier abs." Supposedly you don't even have to exercise to see results, but the belt will "complement any exercise or physical activity: walking, biking, jogging, gym …"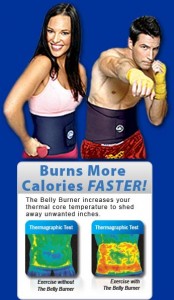 The claim by the manufacturer is that the Belly Burner increases thermal core temperature, thus shedding the pounds and inches from your waist. To "prove" this claim, two thermal images with "heat vision photography" of a midsection are provided — one with with the Belly Burner, the other without it. Wouldn't you know it, the photo using the Belly Burner shows all sorts of bright orange and yellow colors (supposedly indicative of greater heat) while the other photo is mostly a dull green and blue. Wow, some proof. Of course, as with all of these overhyped infomercials, assorted free gifts are offered including a DVD and calorie counter. Hopefully you're not running to phone with your credit card just yet…
Let's get down to the facts. Despite the claims, no peer-reviewed research supporting the belt's validity is provided in the ad. None!. Based on current research, there is zero evidence to believe that the Belly Burner will have any affect on reducing your waistline. Rather, all evidence shows that you can't increase core temperature by wearing a snug belt. At best, you might sweat a little more, which causes the temporary loss of body water — a process that is quickly reversed once you rehydrate.
Apparently the Belly Burner was invented by a "celebrity trainer" named Bobby Waldron. The ad says it used to be only available to his personal clients but now it is available to the public. Whoopee! A quick Internet search for Bobby Waldron reveals he is a model, actor, stunt man, and yes, a personal trainer. I'm not sure what order his priorities lie, but if the Belly Burner is his big contribution to the field of exercise, then he should stick with his other interests.
Unfortunately, the fitness industry is rife with hucksters that look to appeal to the naivety of the consumer with promises of an easy way to a great body. As long as there is money to be made, some entrepreneur is bound to try to capitalize for a quick buck. Don't be scammed. When something sounds too good to be true, it usually is. By all accounts, that's the case with the Belly Burner. Save your hard-earned money and train hard. That's the only way you'll get fab abs.
Stay Fit!
Brad

Bookmark this on Delicious