For those who have read my books or attended one of my seminars, you'll know that I'm a big proponent of performing interval training to optimize fat loss. I was quoted in the current issue of More Magazine as stating that it's the most effective cardio technique for slimming down. So true!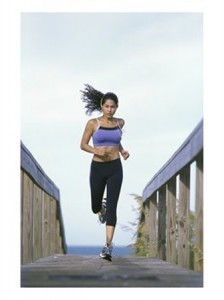 As noted in the article, the benefits of interval training have been borne out by research. Studies repeatedly show that it has significantly greater effects on reducing body fat levels, producing up to a nine-fold reduction in skin fold measurements. Best of all, interval training requires about half the workout time compared to traditional steady-state cardio training.
The concept behind interval training is simple: intersperse bouts of high-intensity cardio with lower intensity cardio. Pretty much any aerobic modality can be used for interval training. For example, you can choose jogging as the low-intensity cardio and running as the high intensity cardio. Alternatively, you can combine skipping rope with jumping rope. Or you can intersperse jumping jacks with squat thrusts. The possibilities are pretty much endless.
If you're a beginner, keep the intervals on the longer side. A 1:4 high/low ratio is generally a good starting point. Try to gradually narrow the interval until you're training at a 1:1 ratio. 20 to 30 minutes a session, three days a week is all you need to do to see terrific results. Be careful that you don't overdo it, though. The high-intensity nature of the routine can easily lead to overtraining if you're overzealous. As is often the case, less can be more!
Stay Fit!
Brad

Bookmark this on Delicious